Website untuk film live-action adaptasi manga Hirohiko Araki, JoJo Bizarre Adventure : Diamond Is Unbreakalbe memposting visual untuk Yusuke Iseya dengan kostum Jotaro Kujo.
Website sebelumnya telah mengungkapkan visual untuk Kento Yamazaki sebagai Josuke Higashikata, Ryunosuke Kamiki sebagai Koichi Hirose, Nana Komatsu sebagai Yukako Yamagishi, Masaki Okada sebagai Keicho Nijimura, Mackenyu sebagai Okuyasu Nijimura dan Takayuki Yamada sebagai Anjuro "Angelo" Katagiri.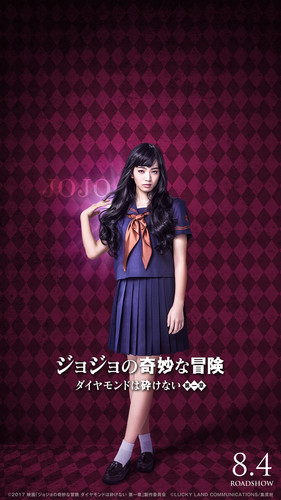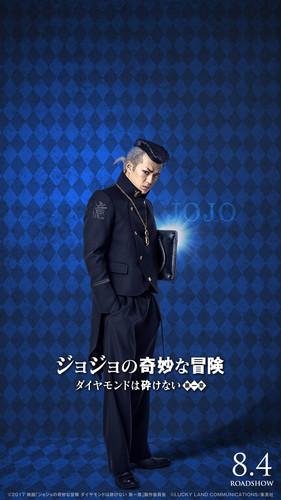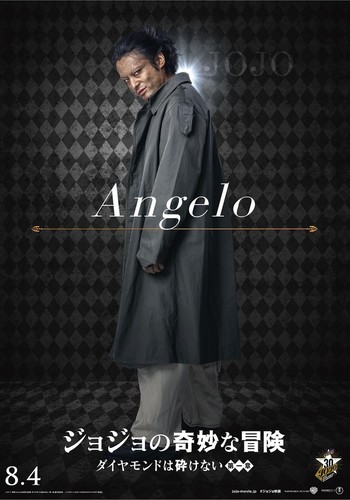 Film dengan judul JoJo Bizarre Adventure : Diamond wa Kudakenai Dai-Ichi-Sho akan tayang di Jepang pada tanggal 4 Agustus mendatang. Proses syuting film telah selesai, yang bertempat di Sitges, Spanyol dan juga Jepang.
Pembuat film, Takashi Miike (live-action
Terraformars, Ace Attorney, Crows Zero, Yatterman, For Love Sake, Ichi the Killer
) sebagai sutradara film, yang akan dibuka pada musim panas mendatang.
- Nana Komatsu ( Bakuman. ,
Kin Kyori Renai
,
World of Kanako
) sebagai Yukako Yamagishi
- Takayuki Yamada ( Bakuman. , Terraformars , Crows Nol ,
Gantz
) sebagai Anjūrō Katagiri
JoJo Bizzare Adventure : Diamond Is Unbreakable
merupakan bagian keempat dari manga Araki, JoJo Bizzare Adventure.
Kisah diatur di Morioh, terletak di S Kota di M Prefektur Jepang, dan mengikuti petualangan dari Jōsuke Higashikata dan teman-temannya, karena mereka terlibat dalam serangkaian insiden aneh di kota mereka.
Serial manga keempat Araki dirilis di majalah Shueisha, Jump Weekly Shonen pada tahun 1992 sampai 1995. David Production telah mengadaptasi manga menjadi beberapa anime televisi, yang dimulai dari bagian 1 pada tahun 2012. Studio mengadaptasi dari Diamond is Unbreakable yang tayang pada tanggal 1 April dan Crunchyroll menayangkan seri di Jepang. Viz Media merilis manga di Amerika Utara, namun belum mencapai bagian empat manga.
#article #liveaction #manga #jojobizarreadventure #diamondisunbreakable #visualkey